Every year, the first Saturday of December, a town in Ontario, Stouffville, host their annual Santa Claus Parade.  The temperature was about -8 degree celsius(C) in the morning, it warmed up to 3C by midday.  No rain or snow, instead it was a dry cloudy day.  However, it did not stop anyone from coming out to celebrate one of the biggest event in the Town of Stouffville.
This is my first year participate in this parade, volunteered as an unofficial photographer with the Stouffville Kinsman Club.  They are also the host of this event, responsible for the float which carried the most important person of this event – Santa.  This parade is sponsored by the town and local business, from hospital, real estate offices, restaurants and many more.
This parade is little different than the Santa Claus parade you see in other major city, Toronto for example.  Most of the float are prepared the day of the event, by local families on their drive way, using their skills and creativity.  Unlike the one you see in downtown Toronto, they may cost millions of dollars and takes years to prepare.
The parade run along Main St, some spectators can enjoy the parade in the comfort of their own home or business.
After all, it was a safe and successful event, everyone was having a good time.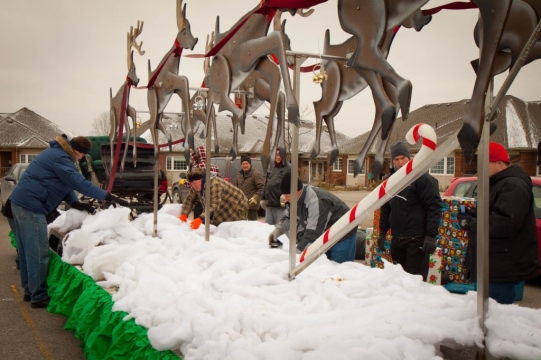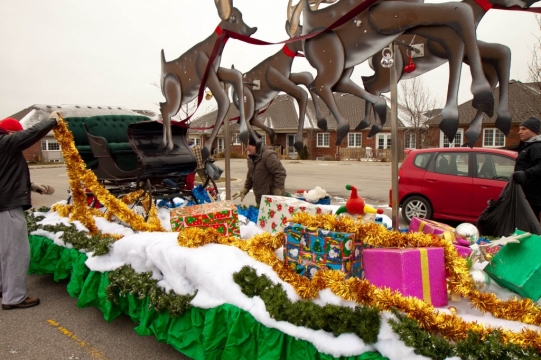 Crew member preparing the Santa float on this chilly early Saturday morning.

Friends and families are preparing their float on their driveway.

A beautiful smile from the Stouffville Dance Club.  (I forgot to ask for her name, please leave me your name if you see this)


Crew lining up for the parade

Santa arrived

A local business sponsor – Royal Lepage Your community Realty

More photos in the galleries section